Blood Sulfate in a Baboon Named Brunhilda
Keywords: nonlinear regression, linearizing transformation
---
Description
The observed responses are Geiger counter counts (times 10-4) used to measure the amount of radioactively tagged sulfate drug in the blood of a baboon named Brunhilda after an injection of the drug.
---

Variable
Description

---

Hours
Time in hours since injection
Sulfate
Geiger counter counts × 10-4

---
Download
Data File (tab-delimited text file)
Source
Jennrich, R. I., and Bright, P. B. (1976). Fitting systems of linear differential equations using computer generated exact derivatives. Technometrics 18, 385-392.

Jennrich, R. I. (1995). An Introduction to Computational Statistics. Prentice-Hall, Englewood Cliffs, New Jersey. Section 8.2.1.
Analysis
The sulfate decay curve is not well fitted by simple exponential decay, Sulfate = a exp(-b Hours). The model Suflate = a Hoursb is not bad, as the plot shows.
Successive observations will be positively correlated.
In this case the counts arrive according to a Poisson process. One could obtain a goodness of fit test for the fitted curve by comparing the errors to Poisson variation.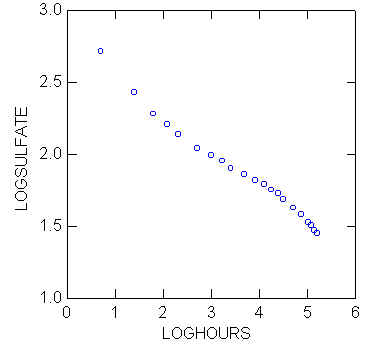 ---