House Insulation and Gas Consumption
Keywords: linear regression with two groups, analysis of covariance
---
Description
The following data was collected in the 1960s at a house in south-east England. The weekly gas consumption (in 1000 cubic feet) and the average outside temperature (in degrees Celsius) was recorded for 26 weeks before and 30 weeks after cavity-wall insulation had been installed. The house thermostat was set at 20°C throughout.
---

Variable
Description

---

Insulate
Before or After
Temp
Average outside temperature (°C)
Gas
Gas consumption (1000's of cubic feet)

---
Download
Data File (tab-delimited text)
Source
I don't have the source recorded - please remind me if you know.
Analysis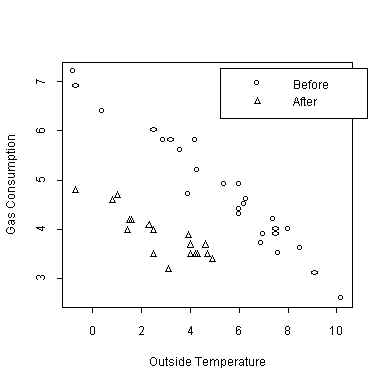 ---