Time between Nerve Pulses
Keywords: exponential distribution, right skew data
---
Description
The data gives the time between 800 successive pulses along a nerve fibre. There are 799 observations rounded to the nearest half in units of 1/50 second.
Download
Data File (tab-delimited text)
Source
Fatt, P., and Katz, B. (1952). Spontaneous subthreshold activity at motor nerve endings. Journal of Physiology 117, 109-128.

Cox, D. R., and Lewis, P. A. W. (1966). The Statistical Analysis of Series of Events. Methuen, London.

Jørgensen, B. (1982). The Generalized Inverse-Gaussian Distribution. Springer-Verlag.
Analysis
The distribution of times is approximately exponential. Jørgensen (1982) and Cox and Lewis (1996) found some discrepancy from the exponential distribution. This can be seen in the lower tail of a plot of quantile residuals. There is no trend in the mean or the dispersion.
> summary(nerve)
 Min. 1st Qu. Median  Mean 3rd Qu. Max.
  0.5     3.5    7.5 10.95      15   69
> hist(y)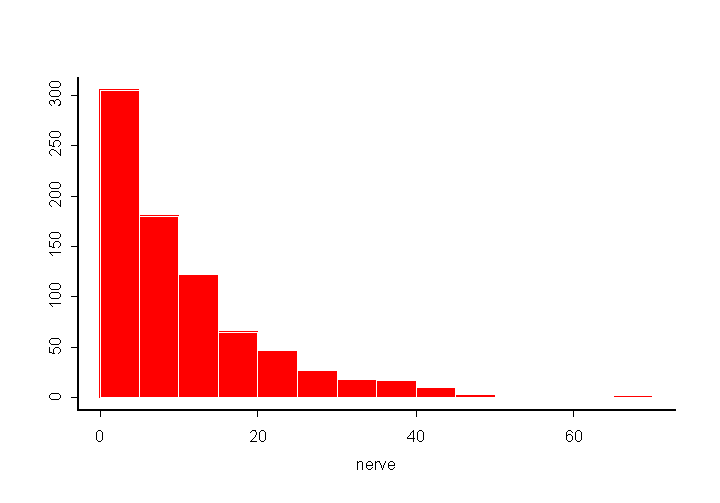 > out <- glm(nerve~1,family=Gamma)
> res <- qres.gamma(out,dispersion=1)
> qqnorm(res,ylab="Quantile Residuals")
> abline(0,sqrt(798/799))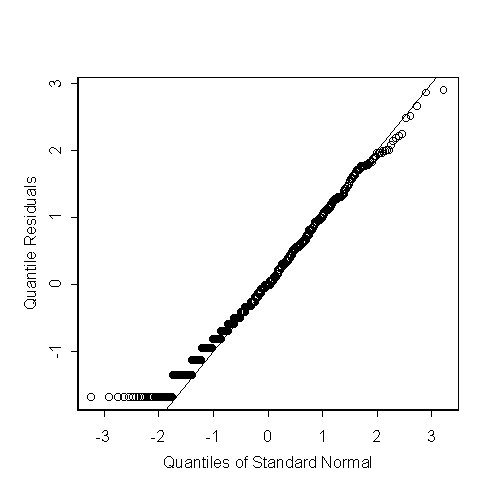 ---